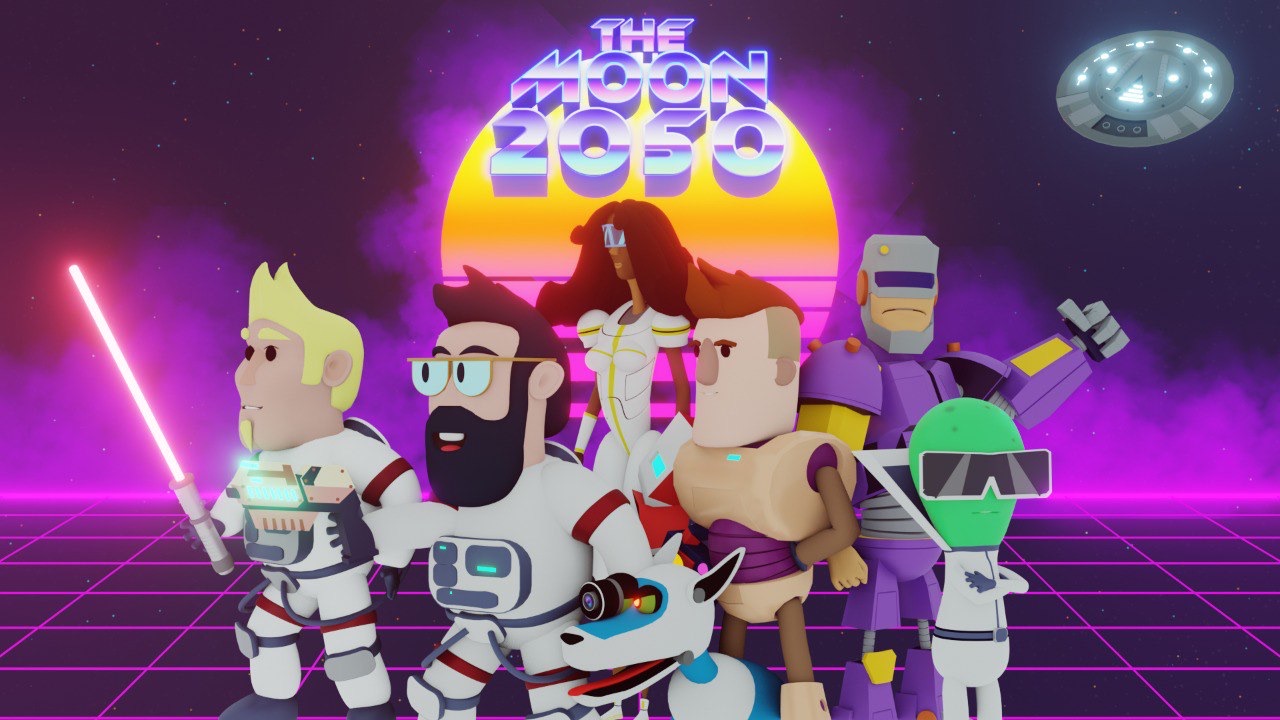 Hey! My name is Paul. I am author of the animated universe. The Moon 2050™. Let me tell you more about myself and how it all started.
1. 01.08.2019 – I had a desire to explore the possibility of making children's content, then we went the simplest way. We began to invent simple stories about children and animals, draw them in 2D, animate them, and tell these stories using music.
Link to the Rainbow Songs channel (29.3K subscribers, 4.6mln views).
2. At the same time as Rainbow Songs, we made another channel called PamPam TV, where a character called Pakman's story was told. Unfortunately, there is no longer a channel; only content on the hard disk is left. We tried to delete the cartoon content and use the base of views and subscribers for testing other content. The results for Pakman were slightly less good (10K subscribers and 1.5mln views).
But then, the unexpected happened. In the fall of 2019, a separation of children's and adult content took place on Youtube. As a result, most advertisers left the children's audience. Consequently, there was a drop in reach, decrease in the number of subscribers, and monetization.
3. I will finish the story about experiments with Youtube. Next, we decided to try to make content for an adult audience. We took interesting trending topics and looked for the most popular things, events, people, achievements, etc. Scripts for each episode were prepared weekly, the videos were edited and the script was voiced.
This is how the news channel Facts in Box came to be, which managed to get more than 300K views and about 10K subscribers.
4. Now back to the origin of the animated series, The Moon 2050™.
After the rapid growth and monetization we expected did not happen in our attempted children's content, I got the idea to create a cartoon in the style of South Park for adults. What do I mean by 'the style of South Park'? Minimalism, no detailed drawing, and 2D animation.
I had no idea what would happen in the end.
I just took a blank sheet of paper and started throwing ideas out there. What kind of story will it be? Who should be present in it? Where should the story take place? How long should the cartoon be?
I had no idea how to answer these questions for several days, or even where to look for a source of inspiration. But by chance, I stumbled upon a band called The Midnight. That's when my imagination began to spin. I just turned off my brain and started writing. At the end of the day, my first script was ready.
It is worth mentioning that until now I have not watched a single episode of Rick and Morty or Love. Death. Robots. It sounds strange, but I was and continue to be inspired by music. The right music calms the mind, which is why it tends to inspire interesting writing.
It was the story of the astronaut, Harry, who was wrecked, came to the Green Moon Bar, ordered a Spirulina cocktail and, in a powerless and fat-free state, told his story to the bartender Keith, that he had lost the meaning of existence, so he ended up in this place and ultimately he left.
I found a 2D animator, we discussed the concept with him, I showed the sketches, references, and found the voice of the actor. After 2 weeks the Episode 1 was done.
Yes, it may sound strange, but it was this episode that kicked off the further development of this universe.
I didn't have the slightest idea how you can immediately take and paint the full story of the cartoon, so I decided to do one episode every month. I spent up to 15 days writing a script and 15-20 days spent on creating animation, voice acting, sound design and editing.
After listening to useful advice from friends, I began to write the script for the second episode. The idea was that from the first bar, the characters would go to other bars, get into trouble, and leave them together. The main character tried to escape from the present and he wanted to forget himself, which is why he was living this lifestyle.
During the writing of Episode 2, I began to think fundamentally about these things:
What was happening in 2050 on the planet The Moon?
People have learned to get along well and make friends with cyborgs and robots and green aliens. But still, people are humans, aliens are an alien life form, cyborgs and robots are synthetic creatures connected to an artificial system of existence, etc.
In the midst of all that happening, Harry could not find himself, but ultimately he found a robotic dog, called Shaggy.
Shaggy gave Harry a new meaning of existence and breathed life into him. It is also worth noting that 2 of the 3 green aliens who followed Harry disappeared.
Why this was done, I did not know. I thought that in the new episodes there would be ideas for these events.
The 2nd Episode seemed interesting to me, but still it was not clear what would happen next. I decided not to stop and started the third episode, from which the habit was born "First we see what happened in the last episode and only then we start working on the new one".
In Episode 3, I decided to add a Friend for Harry named Jimmy. He was fighting some kind of robot, and Harry and Shaggy were supposed to help him.
The 3rd Episode seemed to me quite convincing and coincided with my expectations. I liked the picture because that's what I wanted to see. I liked the characters and how they started to interact. Ironically sometimes, I experimented continuously, which I continue to do today.
In Episodes 4 and Episode 5, Harry and his new team had to get the ship (why, I didn't know yet) and therefore had to go to Trash Valley. And Harry had to tell the story of how he happened to be in such a place.
And he told the guys how he lost his partner, the pilot of the ship, another astronaut named Sam. In this valley, Harry met with the Chiefman, who was the yardstick of everything that happens in the Galaxy. The Chiefman told Harry that not only on the planet, but throughout the entire universe, biological beings are disappearing and perhaps Sam is alive. But Harry needed to find an organization called Black Hole Inc. There, he will find answers to all his questions.
Here are the five episodes which served as the foundation for the entire animated series. At this point, I understood how to unfold the story further.
After a year and a half, I went back to re-doing those first episodes and making an incredibly exciting Pilot Episode due to be released before mid-December. Living the story and events of each character, I understood what a Pilot should be. I think it will turn out the way it was intended.
In the second part, I will tell you why I started participating in festivals, why I approached game devs, what difficulties I faced, and what my final goal is.
Please drop a Like if you liked the story.